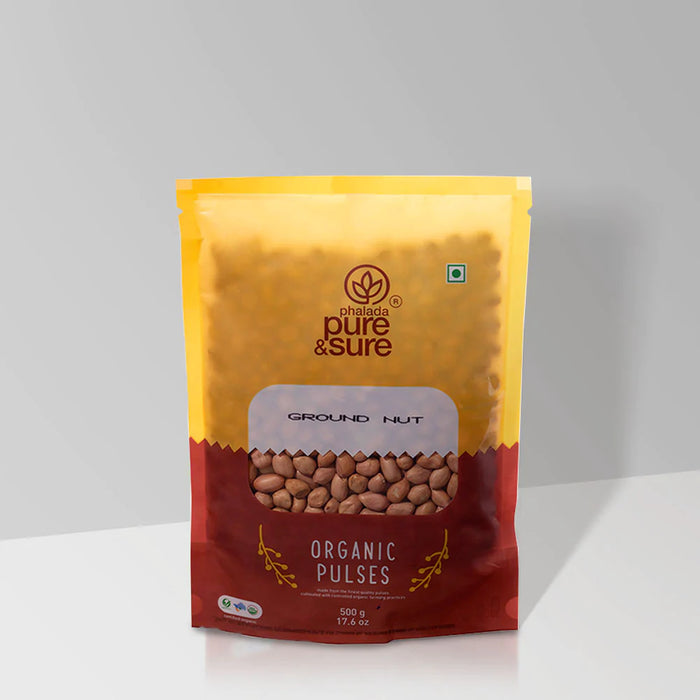 Pure&Sure Organic Groundnut (Peanut), 500g
Original price
Rs. 145.00
-
Original price
Rs. 145.00
Original price
Rs. 145.00
Call it peanut, groundnut or a monkey nut, these small, oval shaped nuts were perhaps one of the first few domesticated grain legumes by mankind. Not so long ago, these seeds or legumes, that are crunchy, flavourful and aromatic to the taste- thanks to its high oil content were a staple ingredient in Indian kitchens. While groundnut oil was a regular for seasoning various recipes and even for deep frying, these pale, pink coloured legumes served as an ideal mid-day snack option.
With westernization of Indian cuisine, groundnut oil has slowly vanished from our kitchens mostly owing to various theories on how its consumption can lead to cardiovascular diseases and other chronic conditions. However, things have changed in the last few years with cold pressed, traditional oils making a comeback into Indian kitchens, with more and more celebrity dieticians, nutritionists vouching for its good fats, vitamin and mineral components.
The groundnuts that are available raw, boiled, soaked or roasted boast quite an impressive nutritional profile matching other tree nuts like almonds and walnuts, in taste, vitamins, protein and good fats.