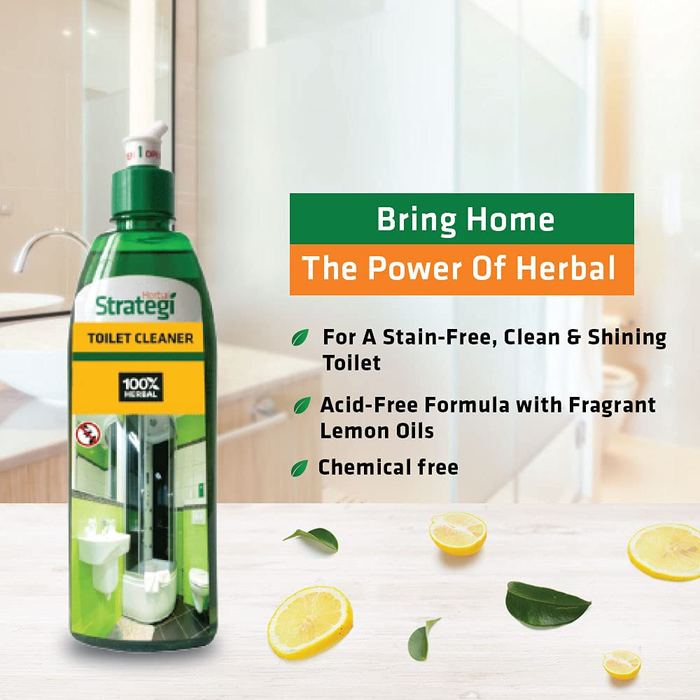 Herbal Strategi Toilet Cleaner, 500ml
Original price
Rs. 165.00
-
Original price
Rs. 165.00
Original price
Rs. 165.00
A clean toilet is an essential aspect of living a healthy lifestyle. A messy bathroom is not only unappealing to look at, but it can also make its users sick, as an unclean toilet may serve as a breeding ground for a variety of bacteria and microbes. The Toilet Cleaner is a must-have among your household cleaning items to keep your toilet hygienic and clean.
Herbal Strategi Toilet Cleaner is eco-friendly and made solely of herbal components (coconut based surfactants and aromatic oil extracts), unlike other chemical household disinfectants . The product helps to prevent calcification and eliminate hard water stains while also fighting odours and deodorizing the toilet. It's made up of a one-of-a-kind blend of plant extracts and fragrant oils that are all 100% herbal.
Herbal Strategi Toilet Cleaner is made to be safe for your skin and devoid of hazardous substances, ensuring the safety of your children and pets. It reduces calcification and removes Hard Water stains effectively. Lemon Oil provides a refreshing scent that eliminates the damp odor that is frequent in restrooms. It not only cleans the toilet, but also maintains it free of disease-causing bacteria and leaves a pleasant scent behind.