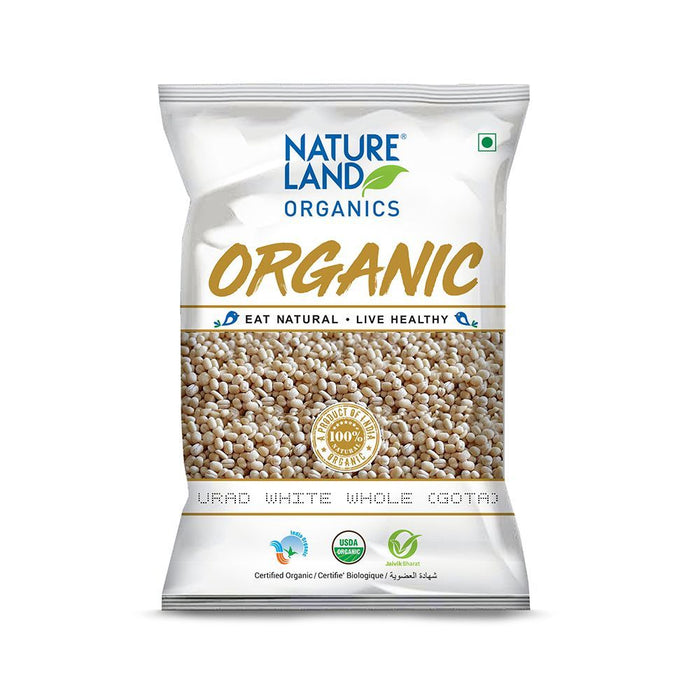 NatureLand Organic Urad White Whole (Gota) 1Kg
Original price
Rs. 280.00
-
Original price
Rs. 280.00
Original price
Rs. 280.00
Dal is the most essential food consumed by Indians and packed with profuse nutrition. Organic urad dal is paramount in proteins and Vitamin-B and a rich source of potassium and iron. Organic urad White Whole (Gota) is free from artificial coloring and processing. They are best for pregnant women, supplying them with the nutrition and heals pain and inflammation. Urad dal boosts energy, refines digestion along with enhancing your skin and hair, and keeps your heart healthy.
Natureland Organic Urad White Whole (Gota) is a great source of fiber that helps promote easier digestion and relieves bowel-related issues like constipation. Rich in vitamins and minerals like magnesium and potassium helps keep one healthy and provides energy to the body. It is also used to prepare chutneys and even desserts.
Regular intake of Organic Urad Dal helps boost the immune system and overall strengthening of the body. Whole White Urad Dal is a rich source of Protein, Iron, Folic Acid, Potassium, Calcium, Vitamin B etc is very good for women and is given to pregnant women to strengthen their hip bone.